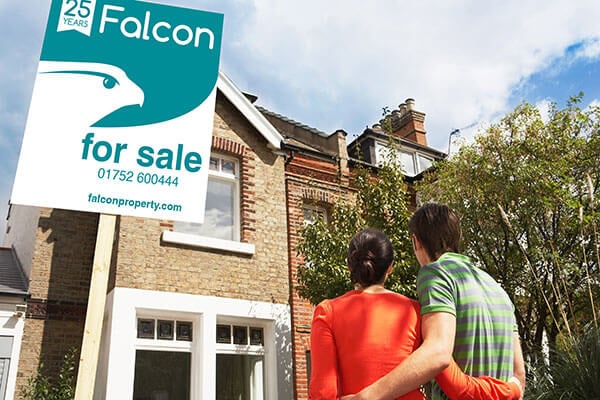 The Plymouth property market is fast moving and extremely competitive with demand often outstripping supply in the most popular areas. We feel that being good at what we do isn't good enough, what we do has to be better than our competitors and from what we hear from our clients, it is! We understand that today's buyer is tomorrow's seller. We want you as a client in the future so it is part of our make up to go that extra mile for both buyers and sellers. Whatever it takes we do our very best for you, this way, firstly you will hopefully come back to us and, secondly, we will get you a better result today.
Falcon has always been at the forefront of marketing. We were the first agent to use floor plans and full colour. We're always pushing boundaries – now we even sell homes through our various social media channels, using Facebook, Twitter, Instagram and Pinterest. So, once we've been out to have a look around your property and provided you with some solid, research backed marketing advice we are ready to get going with the marketing.
Our marketing is based around these essential strands:
A high visibility office: people still love to visit us! Why not come in and discuss your property needs with the best free cup of coffee in Plymouth. (Well that's what we have been told anyway.)
National Marketing: by this we mean websites. We invest heavily in web marketing. The sites we use are rightmove.co.uk, zoopla.com, primelocation.com, falconproperty.com plus plymouthproperty.co.uk and the new website onthemarket.com. Through our membership with the Property Sharing experts your property will also feature on over sixty other websites which is probably more websites than any other agent in the City.
Eye Catching Marketing: we work hard to showcase your property and catch the eye of buyers across the country. Our standout photography along with floor plans help excel your property to the widest audience, plus we now offer fully responsive virtual property tours, its literally like being there. We believe in making your property stand out from the competition and that's just what we do.
Our staff: we employ mature sales people who have all been through the buying and selling process for themselves. They are paid on a 'pooled' commission basis so that they work together as a team to ensure that all our clients get the very best service. We still believe in the old skills of calling out our properties and feel the best results are obtained by getting to know the properties we are selling and the requirements of our clients – this is something a computer program can never do on it's own!
You'll also get one of our eye catching for sale boards to set the tongues wagging in the road, but that's all good, the more people who see that you are on the market, the greater your chances. Plus for sale boards are still one of the best marketing tools we have.
We will be accompanying all the viewings and provide you with productive feedback afterwards. There is no substitute for good communication with our clients.
Our personal service continues up until the keys are handed over as we monitor and help sales through to completion.
Our Philosophy
We will treat you as we would wish to be treated ourselves with friendly, efficient and honest support and advice
We will never elaborate on the facts or withhold information from you to benefit ourselves
We will never promise you anything we cannot deliver
We will make time to explain the whole process in detail and make sure you are fully informed of our plan to market your property and agree service levels so you know exactly what to expect
You will have complete transparency in our dealings with you. Everything is documented to ensure a complete record of progress
Our years of experience of the local markets mean that we promise you an accurate market appraisal, not a false overvaluation to win your business
You will always have a named point of contact and know who to go to for advice. However, we would encourage you to come into the office and meet all our staff (every one of whom will be familiar with your property so that they can expertly deal with potential buyers)
By being constantly in touch with both the buyer and the seller our service becomes proactive - we become aware of any potential issues and we are able to deal with these before they become a problem
---